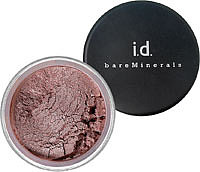 In the olden days, I used to spend every day crying and losing sleep and I developed these awful circles under my eyes. Before Bare Minerals I really couldnt find anything to cover it up. I used eye creams because I've heard people in the makeup world say you are never too old to start using eye products. Well I forgot about the whole idea of taking care of my eyes until recently I started noticing that I still had the circles and I wasn't crying anymore. So I decided to investigate what my lovely Bare Minerals products had for the eyes. Well needless to say I'm a sucker for creative names and I opted to go for the Bare Vitamins Eye Rev-er Upper. I read the reviews online and so far it was a big hit. It has these illuminating minerals that brighten the areas around your eyes. You apply it before you put on your makeup. I like it because its light and doesnt make your eyes look all pasty after your put your makeup. It also adds a little hint of shimmer under your eyes and I'm all about shimmer. Its nothing super diva, its very subtle and I love it. Its a little pricey but well worth it and it lasts a long time. All yours for $21.
So continuing along my Bare Minerals addiction, I love their eyeshadows and fun names that go with them. Now what I love about this line of makeup is while it may be on the more expensive side it lasts for a long time. Bare Minerals eyeshadows are $13 each. My favorites are this shimmery green called Soiree and a smoky shimmery purple called Gossip. Along with the primetime eyelid primer from my previous post are a must have for eyeshadow.
Well as I mentioned in my previous posts I have some tried and true makeup that never fails me. Along with the theme of eyes my eyeliner is amazing. I use the Perfect Point Plus from Cover Girl. Its a retractable pencil so no sharpening and it has a small smudge or corrector sponge on the end. I love this eyeliner because it goes on smooth and lasts all day.
That's all for today. I'm currently on a nail polish craze so stay tuned for my thoughts on the new O.P.I. Minis and Rimmel London.